The lawns of Florida generally see more action than other states during the "winter" months because of all the visitors our state gets. Many people in the north are considered snowbirds – people who fly south for the winter to escape the freezing temperatures.
With so many extra people in our state who are really only thinking about enjoying themselves, the lawns in the area can take a beating. That's where aeration might come into play. Our summers here are pretty hot, so preparing our lawns the best we can ensure they don't die.
When Is Aeration Necessary?
Simply put, your soil won't be healthy if it isn't absorbing the nutrients from the fertilizer and water you are giving it. What happens is that over a period of time, which can be different depending on use, the soil underneath turf becomes compacted and is going to have a hard time absorbing what it needs.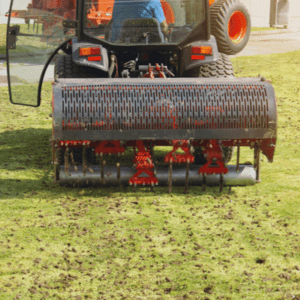 Now, you could be doing everything right in terms of lawn care routine, but if your soil isn't reaping the benefits, nothing is going to happen. You could easily end up with a struggling or dead lawn. So what comes next? Aeration.
What Is Aeration?
Traditional aeration is digging strategic holes in your lawn that are about one to three inches deep. Normally, compacted soil isn't any further down than this, so going deeper isn't usually necessary. Once the holes are dug up, your soil will need to heal and your lawn may look a little rough. However, no matter how scary it looks, an aerated lawn is better off than a lawn with compacted soil.
Once the aeration process is over, your soil will immediately be ready to take in the fertilizer. Whether you choose to overseed is where your lawn can really get the healing process going. Overseeding is just like it sounds: put a large amount of seed right over the top of your freshly aerated grass. This is really the only time that seed can be laid down like that and truly work.
After aeration and overseeding come a short waiting period. During this time, you will need to follow a routine watering schedule to help the process along. Luckily your soil is completely prepared for this, as it is loose and ready to absorb all of the benefits you are giving it!
Have Your Lawn Aerated by Lawn Master This Spring
Spring aeration can work wonders for your turf. Lawn Master wants to make sure that you are covered when it comes to this lawn service. We have been working in the lawn care industry for over three decades. That has given us the unique experience of seeing everything there is in Pensacola, Florida. Our lawn care services can be 100% trusted, it's our number one goal to make sure your lawn receives the care it needs.
To contact us, you can fill out our form online or give us a call at 850-476-1601. Learn more about us by following us on our Facebook page and get more tips and ideas right at your fingertips!
We look forward to hearing from you soon!