Known as the sunshine state, we are blessed in Florida with an abundance of sunshine, short winters, and long summers. Like any other state, we have our share of problems. One of those is annoying and irritating weeds. Weeds can put a damper on any well-maintained lawn, and once your yard has one, they seem to grow like a bad cold. This can significantly impact the exterior of your home and cause a myriad of allergies that make any outdoor activity miserable. 
What are the most common weeds in northern Florida? With our variety of different grasses, including St. Augustine, Centipede, Zoysia, and Bermuda, it's hard to keep track of the various weeds and prevent them. We've taken the liberty of compiling a list so you can identify not only them but also have a better understanding of how best to avoid each one.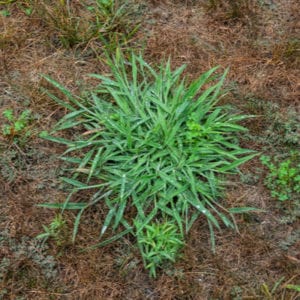 Crabgrass
Crabgrass receives its name because it grows low to the ground and contains stems that protrude outward from its center, resembling crab legs. It's an annual weed whose seeds germinate during the spring and summer. Crabgrass thrives in hot, dry conditions. It loves thin, weakened, compacted soil because bare lawns allow the sunlight to hit the soil directly. With one crabgrass weed being able to reproduce 150,000 seeds during the growing season, no wonder it's a tough weed to control. Crabgrass tends to crowd out any good grasses that have become weakened.
How to Prevent Crabgrass
The best way to discourage crabgrass from appearing in your yard is by maintaining a thick, full, healthy lawn. A pre-emergent can be utilized in early summer to help stop crabgrass from growing and spreading.
Chickweed
Named chickweed because it is the favorite food of chickens, it is an annual broadleaf, and it germinates in the fall. Chickweed is technically an herb and can be used in salads or broken down to make use for components of oils. Although it has various purposes, it is considered a weed because it is unappealing to the eye. Chickweed grows to be about eight inches in height and has hair covering its entire length. Here in northern Florida, it sprouts during the winter months. 
Ways to Combat Chickweed
The best way to prevent chickweed is by growing a thick, healthy lawn. Watering your lawn infrequently but deeply also helps to keep chickweed at bay since it prefers damp soil.
Nutsedge
Nutsedges are known as such because they look like grasses and can be one of the most challenging weeds to control here in Pensacola, Florida. It likes to invade and infect your garden and surrounding greenery. The key to halting this weed from destroying your lawn is to identify it early. The two sedge species we have here in Florida are yellow nutsedge and purple nutsedge. While yellow is often more prevalent than purple nutsedge, the two are often found appearing together.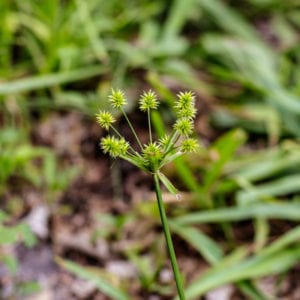 Yellow Nutsedge
Yellow nutsedge has a long yellow leaf tip with a yellow seedhead. Its leaves are lighter than it's cohort and can grow to be 12 to 16 inches tall. 
Purple Nutsedge
With purple nutsedge, the Leaves taper abruptly to a blunt point, and the seed head is purple. It's shorter than it's yellow counterpart at approximately six inches when mature. 
Stopping Nutsedge From Ruining Your Pensacola Lawn
Nutsedge is one of the most difficult weeds to control. It thrives in damp, humid weather and prefers lots of sun. It loves areas of pooling and standing water, so having proper drainage is important in preventing this vial weed. Annual aerating and seeding is also highly recommended to help fill in bare spots where weeds have previously been killed.
Having a Hard Time Identifying and Targeting Weeds? LawnMaster is Here for You 
Lawn Master has a team of highly trained professionals that will come out to your home or commercial property to assess your landscaping needs, give you a quote, and take care of any weed control issues you might have.  We offer a lawn care program that includes both pre and post-emergent weed control for the best prevention of these obnoxious weeds. We also offer a separate weed control service for those unable to invest in our full lawn care program. 
At Lawn Master, we know it's a time-consuming and grueling task to pull all your own weeds, and even more of a chore to figure out how to prevent them. 
Give us a call now at 850-476-1601 to set up an appointment or contact us below!