It's already December and Christmas is right around the corner. It's never too late (or too early) to put up Christmas lights. It's time to haul out the decorations from storage. Time to untangle those lights and try not to explode in frustration. We know that everyone wants to stand out from their friends and neighbors so we have come up with some creative and expressive ways to decorate for the holidays.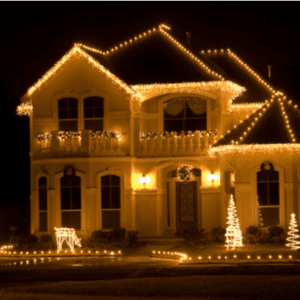 Compliment Your Home's Architecture
Use your home's features to your advantage. Features like bay windows, eaves, peaks, and roof edges are a perfect canvas to start your holiday decorating. Some traditional choices for lights are multi-colored, white, or icicle lights. Whatever you choose, it will definitely get the attention of passersby and your neighbors. Remember to always practice safety when hanging lights on a roof.
Reduce Harsh Lights
Most of us have exterior motion sensor lights on our porch, garage, and walkways. These lights can really ruin your lighting and your ambiance. Before you put your holiday lights on display make sure you turn off your exterior lights or change the bulbs to a more festive color. Now your exterior lights won't overpower and interfere with your Christmas lights.
Trim Tree Trunks and Shrubs
Trees have always been good candidates for Christmas decorations. Evergreens are traditional and look great wrapped in lights and tinsel. However, you can put lights on just about any tree in your yard, depending on how dedicated you are. Trees that have a bare trunk like maples and oaks are the perfect opportunity for you to flaunt your light wrapping skills. Start at the bottom and spiral the lights up and around the trunk. Use net lights to cover branches, bushes, and shrubs.
Light Up Walkways
Your walkways are what you and your guests use to get to your home. Since it does get darker earlier this time of year, it's a good idea to keep your walkways lit so party guests can find their way. There are many creative ways to play with light, here are just a few.
Use Existing Objects:

A great way to do this is to wrap small trees and shrubs along your walkway with lights. 

Arches:

Another great way to tie your walkways into your decorations is to make arches out of pine boughs and lights.

Whimsical Lighting: A great way to recycle old wine bottles, jars, or other glass containers is to put a candle in them and use them to place along your walkways.
Lawn Ornaments
Lawn ornaments always add a bit of fun and whimsy to your holiday decorations. Oversized ornaments, inflatable characters, snow globes, and candy canes are still very popular decorations. Group them together to create a story. Some people even put them on their roof for an added flare. Just make sure you have plenty of extension cords. 
Get On a Light Schedule
Probably the best invention in holiday lighting technology would be the Christmas light timer. For generations, families had to plug in and unplug Christmas lights every night. This could be quite uncomfortable if it requires going outside. With the invention of the timer all that changed. After the initial work of putting the lights up is done all you have to do is relax. There are many styles of timers available. Most models simply plug into an exterior outlet. 
Call The Christmas Light Experts at Lawn Master
Does decorating for the holidays have you in a bad mood? We know how taxing putting up and taking down Christmas lights can be, we've been doing it professionally since 1998. Christmas Décor by Lawn Master offers professional holiday decorating services and Christmas light installation for residences and businesses in the Pensacola area. 
Our services include:
Custom design

Efficient installation

In-season maintenance

Timely postseason removal

Storage of lights and décor until next year
Fill out our form online or give us a call at 850-476-1601. Learn more about us by following us on our Facebook page and get more tips and ideas right at your fingertips! We hope to talk to you soon.