Running a business means there's a never-ending to-do list. It's easy to let landscaping fall to the wayside when there are customers to tend to and taxes to navigate. Unfortunately, poor landscaping may have a negative impact on your business's presentation. You only get one chance for a first impression, which holds true for places as much as it does for people. Here are the many reasons to get commercial lawn maintenance services this year.
Benefits Of Commercial Lawn Maintenance
We Service Businesses Big And Small
At Lawn Master, we can help the smallest mom and pop shops to national chains. There's no such thing as a job that's "too big" or "too small." These are a few of the industries we've serviced: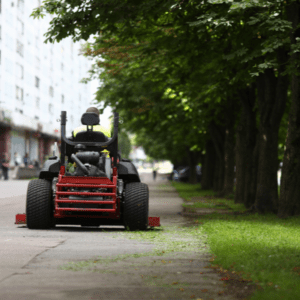 • Law firms
• Local and chain restaurants
• Big box stores
• Doctor's offices
• Banks
• Athletic fields
• Medical complexes
Get Better Online Reviews
If your property looks disheveled or sketchy, your customers will notice. And they will share those thoughts on review sites like Facebook, Yelp, and Google. Proper landscaping is the equivalent of a suit and tie for your business!
Nail The First Impression
The first thing your customers will experience is not your customer service team, your product, or even you. The first thing your customers will come in contact with is the exterior of your business. If the outside makes them think: "they don't take care of their property," it may lead to them asking: "how well will they take care of me and my needs?" There's no guarantee that immaculate landscaping will be the thing that makes the sale, but it certainly won't hurt your chances. When have you ever heard someone say: "this place looks gorgeous – I don't like it"?
Make Your Workers More Productive
Surrounding your employees with beautiful landscaping can make them more productive! Research shows that it also reduces their stress level. Environments that are well-kempt create an atmosphere that encourages people to do their best. Workplace environments with shoddy landscaping and overgrown grass evoke a feeling of "Who cares?" Unmotivated, apathetic workers are not something you want for your business. It will also make you, the business owner or manager, more productive. Many small and medium-sized companies may try to reduce overhead by handling the landscaping on their own. By working with professionals, you'll have more time to deal with running the business, making sales, following up on leads, etc.
Increase The Value Of Your Property
Whether you plan on staying in the current location or eventually moving your business, how you care for the landscaping can affect the market value of the real estate. Maintaining a healthy, vibrant lawn and well-groomed ornamental trees, shrubs, and flowers can influence curb appeal. In fact, research suggests that landscaping affects a property's value by as much as 14%.
Free Evaluations
Lawns are a lot like people – they each have their own unique needs, and sometimes those needs change due to environmental factors. Lawn Master is proud to offer our commercial clients free evaluations of their lawns. This will give us a detailed idea of what is needed going forward. We'll create a plan of action to get your commercial property back on track. Here's what we'll do for your business: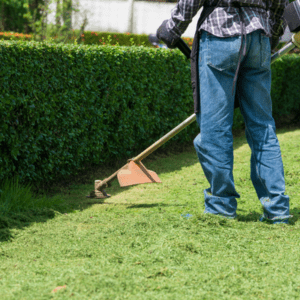 • Evaluate the overall health of your lawn
• Create a customized list of treatment options for fighting weeds, insects, and diseases
• Recommend best techniques for mowing and watering
• Deliver a personalized treatment plan for creating and maintaining the healthiest lawn possible
• Providing a detailed report with pricing estimates
Even though Florida is blessed with warm weather year-round, your commercial property will have different needs depending on the season. For instance, weed control will change depending on what weeds are germinating. Palm trees in your landscaping may need specialized fertilizer. Funcidies and insecticides may change depending on the time of year. Navigating all this on your own can be tricky, but the experts at Lawn Master have the licensing and training. Let us take lawn care off your plate!
Get Commercial Landscaping Near Pensacola
For 40 years, the experts at Lawn Master have beautified commercial properties and helped them seal the deal. Our commercial lawn care program provides lawn fertilization, weed control, and pest control. We can even get your business in a festive mood with customized holiday lighting. If you'd like to learn more or schedule an appointment, give us a call at  850-476-1601 or leave us a message online.
Stay connected with us! Browse our blog and like us on Facebook!